About Us and the Trade Show Industry
According to the Center for Exhibition Industry Research (CEIR), the majority of professionals attend trade shows to look for new products, get insights on industry trends and enjoy the unique capability of face-to-face connection with suppliers and colleagues that only exhibitions can provide. Exhibitors primarily participate to generate leads, enhance branding and nurture and upsell relationships with current customers.
In essence: B2B NETWORKING.
ACOB is just that, a data-centric event matchmaking company focused on pairing the most qualified attendees with solutions-oriented exhibitors to aid in networking and accelerating business at trade shows through our suite of homegrown solutions that ranges from data preparation and data mining to marketing strategy and smart appointment-setting tools.

ACOB guides show organizers every step of the way with our comprehensive solution to more than double the number of matched networking meetings to take place on the exhibition floor, helping participants to find what they are looking for–consciously or subconsciously.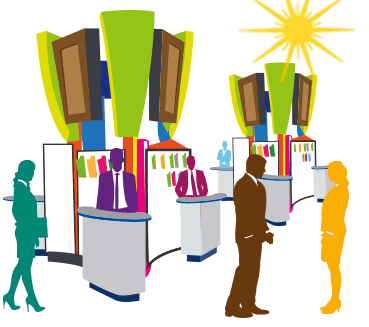 Our Business Networking suite of solutions are:
Business Networking: During the trade show, show organizers work to host the maximum number of networking meetings among exhibitors, attendees and peers to optimize their participation. We use data analysis to understand attendees and exhibitors' interests, which allows us to suggest suitable matches for meetings.
Marketing Strategy: We design, write, send, post, and share content targeted to identified profiles, which helps build a relationship with the proper match to enhance B2B Networking on the exhibition floor.
Data Analysis: It's the stage that employs algorithms to discover what insights data can tell us. This category delivers important and valuable intelligence to be used for strategic actions. Typical outcomes at this stage include enhanced attendee and exhibitor profiles, behaviors and geographic analysis.
Data Integration: It's where our customer's touch-points take place, including registration, lead retrieval, apps, formats, call center and other valuable services to collect event raw data and integrate it in real-time into a single updated and integrated database.
Data Cleansing: It's the first stage in which we define the data health strategy according to needs and goals, and then clean, de-duplicate and enrich the data.